Internet Marketing Company
Sharptech – Internet Marketing Company in Mumbai, India
Sharptech - an internet marketing company understands the needs of startups, small businesses, medium businesses, large corporations, etc. and provides complete internet marketing services like Search Engine Optimization (SEO), Search Engine Marketing (SEM), Social Media Marketing,Online Reputation Management, Mobile App Development, Content marketing, Influencer marketing, Website Design, Website Development, Social media Optimization, App Marketing, E-mail Marketing, SMS Marketing, Brand Identity, etc.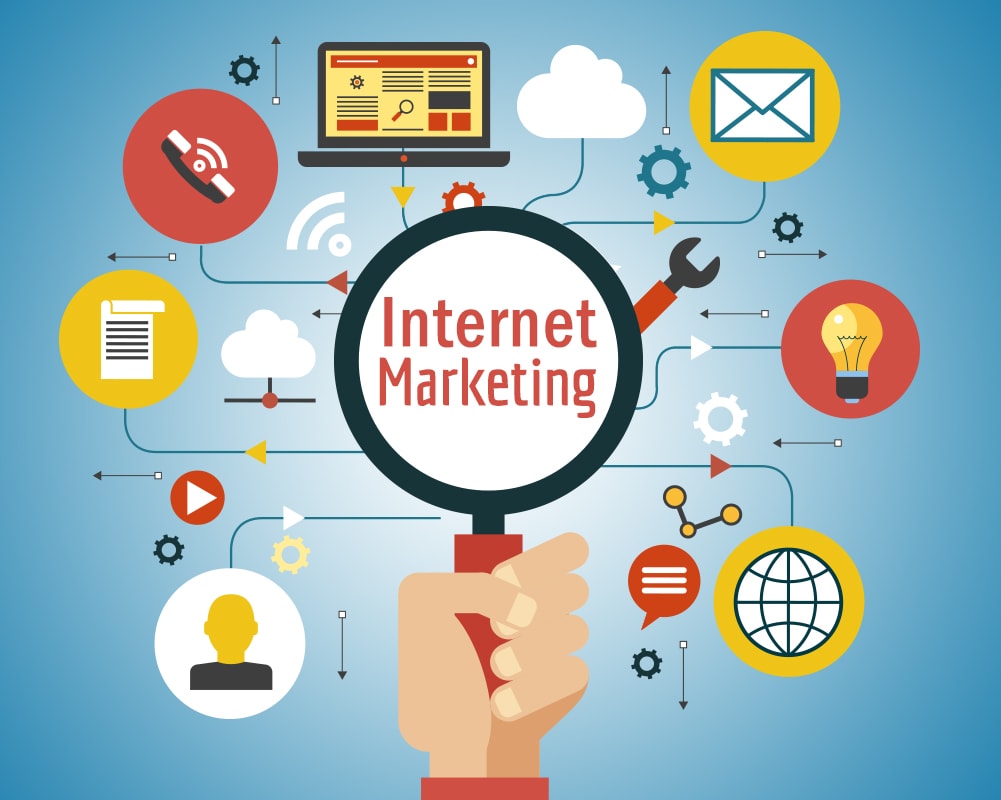 Internet Marketing Company for Small Business Owners and Startups
Internet has changed the way people communicate and interact with each other. Telephone calls have been replaced by free voip calls; sms has been replaced by messengers and live video; and telegrams has been replaced by emails. People have moved from traditional ways of connecting with their near-and-dear ones to digital mediums with the help of the internet. Businesses have realized this shift from traditional to digital and have adapted to the latest internet marketing strategies to reach out to their target audience.
As the world has turned to be into a globalized one, the internet marketing also changed to be global. On this note you have a capability of choosing an array of genres how you want to promote yourself. Sharptech internet marketing company helps their clients to understand the feasibility about the different podiums of social media site. This goes alike:
Mobile Marketing: We try and fix the entire set up in the mobiles. We enable a definite mobile app of the enterprise that will help the customers to choose us, from their phones.
Social media marketing: We develop websites that are linked to the different social media sites. In fact they will also help with the facts and figures to get geared with the entire world within the click of your mouse. Thus, they are highly beneficial for the work and help you to get a note on the marketing strategies of the other competitors. Hence, they are helpful in improvising the facets.
Video Marketing: Video marketing is a newer concept and that helps in building a particular agenda for the business. We help in providing our customers with this mode as that develops a better B2C relation. This also helps the clients to estimate on the standard of the firm.
Email Marketing: The most used mode that is mailing is something that we generate for our customers. There are separate id's created with the name of the company in their domain name and therefore we are able to reach a more number of customers.
Benefits of Internet Marketing for Companies to Grow their Business:
Following are some of the benefits of using internet marketing over traditional marketing for firms and companies:
Cost-Effective: Startups and small businesses cannot afford to spend on traditional marketing as it is very costly and also because they have limited capital. On the other hand, internet marketing comes in as a budget-friendly and effective marketing medium.

Better Return-On-Investment (ROI): According to Google, companies executing internet marketing strategies have 2.8 times better revenue growth expectancy. Internet Marketing not only reduces the customer acquisition cost, but with the execution of effective internet marketing strategies, companies are able to 2x their profits, thereby providing a better ROI.

Laser Focused Ad Targeting: The advantage of using internet marketing over traditional marketing is that laser-focused audience targeting is possible based on interests, behavior, demographics, etc.

Branding and Online Reputation: The laser-focused audience that you attract using internet marketing technologies, further helps in creating a viral loop and thereby helping in building your brand and improving your online reputation.

Equal Platform: Internet Marketing provides an equal platform for small businesses, medium-sized businesses and large corporations. Small businesses can now engage with their customers on the same digital platform used by large corporations.
Top 10 Internet Marketing Tools to Promote your Company Services:
Following are the Top 10 internet marketing tools used by online marketing experts at any internet marketing company:
Google Adwords: Google AdWords is Google's advertising platform in which advertisers bid on certain keywords in order for their clickable ads to appear in Google's search results. This tool is mostly used by ppc experts.

Keyword Planner: This tool helps you to find new keyword ideas for your Search Network campaigns that are relevant to your product/service, and target customers. Keyword Planner shows you average monthly search volume data for the keywords you choose to target and you can add these keywords to your campaigns. Google Adwords is useful to both seo and ppc experts.

SpyFu: SpyFu exposes the internet marketing strategies of any company that maybe your competitor. All you need to do is add your competitor's domain name and SpyFu will show you your competitor's keyword ranking, how much they have paid for a keyword and the keyword variations for which their ad and organic result shows up.

Semrush: Semrush is a powerful competitor research tool for all internet marketing needs like SEO, PPC, Social Media and Video Advertising. It is a freemium tool mostly used by seo and ppc experts to gain advantage over their competitors.

Screaming Frog: Screaming Frog is a powerful SEO tool that highlights the on-page issues of any website like missing robots.txt & sitemap.xml, short meta title & meta description content, missing header tags and broken links. All you have to do is enter your website's domain name, then the Screaming Frog bot scans your entire website and displays the crawling, indexing and on-page issues which you need to rectify to make your website seo friendly.

Hootsuite: Hootsuite is a social media management tool which allows you to schedule posts on social media and manage multiple accounts on various social media networks at one place. It helps you make smart and data-driven decisions by measuring your social media ROI. The real time analytics finds social media trends and gives insights about the performance of your social content. This tool also helps you to track your brand mentions on social media which helps you to maintain your brand reputation.

Google Analytics: Google Analytics is a freemium tool by Google which provides user and traffic analytics of your website. Data provided by this service consists of site visits, page views, bounce rate, average time on site, pages per visit, percentage of new visits and website visitors segmented based on demographics, age & country. This tool is used by all internet marketing companies to measure the roi of various traffic sources.

Buzzsumo: Buzzsumo is a useful internet marketing tool to help you find viral content and the influencers that contribute to amplify the content. Buzzsumo services include content discovery, brand monitoring, influencer marketing, content curation, content research and competitor research. The internet marketing insights provided by this tool helps internet marketers create, optimize and promote content in a better way.

Bitly: Bitly is a url shortener and link management tool. This tool helps internet marketers to shorten long url's and measure the performance of the shortened url on all the online platforms where it is being used. It allows you to track individual link analytics, gather audience intelligence and measure campaign performance to optimize your marketing efforts in the future.

MozBar: MozBar is a browser extension used by seo experts to find out moz metrics like page authority, domain authority, mozrank, moztrust, spam score, keyword difficulty etc.
Up-to Date with Latest Internet Marketing Trends
We, at Sharptech take pride in quickly adapting to the latest internet marketing trends like marketing automation, marketing through virtual reality, making use of big data, internet of things, marketing via stories on Instagram, etc.
Internet Marketing Services at Reasonably Best Prices
Sharptech offers internet marketing services at affordable prices for companies present in metropolitan cities like Mumbai, Pune, Bangalore, Delhi, Chennai, Hyderabad, Nagpur and other tier 2 Indian cities. We are the go-to digital marketing company for all your internet marketing needs.
Our Clients